doxShield™

Introducing doxShield™
doxShield™ introduces an incredibly secure yet radically simple solution to securing documents – be it Certificates, ID cards, Letters of acknowledgement and any form of electronic or physical documentation. As a network attached appliance doxShield™ automates the (bulk) generation of digitally signed and timestamped e-documents. These e-documents are securely archived for future access. Each such e-document gets embedded with a doxShield™ verification code for identification of fake, altered or a tampered printed physical copy of the document.
doxShield™ codes are numeric or graphical imprint on the physical copy of the document that can be input or scanned from a doxShield™ mobile app of the issuing authority to provide instant verification of the document integrity. The doxShield™ numeric code is 16-digit unique identification code imprinted on the document that can be used for integrity verification of the document of via an authorized access to a web based doxShield™ interface or the doxShield™ mobile app. doxShield™ graphical code imprinted on the physical copy of the document can be scanned using a scanner device connected and configured with a doxShield™ desktop software or using the doxShield™ mobile app to verify the integrity of the documents instantly.
doxShield™ appliance provides a web based interface for initializing document templates to generate digitally signed and timestamped e-documents. REST APIs allow custom integration with applications to easily generate secured e-documents containing doxShield™ codes or generate only doxShield™ codes for custom usage.
The problem
From ID cards to birth certificates and driver's licenses, illegally obtaining and selling government documents, educational degree certificates is big business for identity thieves. Misuse and forgery of documents is based on factors that documents cannot be readily verified even if they feature threaded and watermarked security paper, photographs or holograms. It is also due to a common assumptions about the integrity of the government or private sector entity issuing the documentation.
False birth certificates, Social Security cards and drivers' licenses continue to be foundation or 'breeder' documents for the procurement of genuine documents. A US government study suggested that the birth certificate is the "single most vulnerable document" - and a key 'breeder' of other documents - because it is accepted by most governmental agencies as proof of identity and citizenship. Testimony in 2000 claimed that over 8,000 US state and local registrars' offices issue birth certificates, with over 10,000 variations of US birth certificates being issued at any given time.
Many agencies now provide online access for verification of documents and equip the documents, ID cards with biometric, RFID, magnetic, PKI, but it is quite challenging and expensive to image inspectors of the documents - whether other agencies or individuals to carry along with them verification gadgets that can instantly detect tampered or forged documents. Despite compelling benefits of creating e-documents for verification and long term archival, there is a lack adoption owing to easy access and us of the enabling technologies.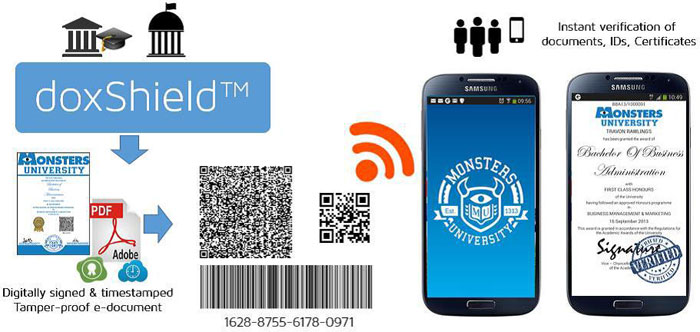 Functional Capabilities
Generate doxShield™ numeric and visual codes for tamper-proof physical copies of documents
Generate doxShield™ Digitally Signed and Timestamped Tamper proof e-documents
DoxShield™ mobile app for verification of documents
Create multiple security profiles associated with document templates for bulk generation of doxShield™ protected e-documents
API for integration with external applications
Authenticated access control to console and doxShield™ web portal
Application Program Interfaces (APIs)
Web service, REST APIs for applications to generate digitally signed and timestamped e-documents
Web service, REST APIs for applications to generate doxShield™ codes for authenticity of physical documents
Scalability, Compatibility, and Upgradability
doxShield™ mobile app for iOS 6+, Android OS 4.0+
doxShield™ desktop software for Windows OS (Windows 7, Windows 8, Windows Server 2008, Windows Server 2012)
Compatible with Thales e-Security nShield Connect, nShield Solo (PCI/PCIe)
Software upgradeable
Cryptography
Asymmetric public key algorithms: RSA (1024, 2048, 4096), Diffie-Hellman, DSA
Symmetric algorithms: AES, Triple DES
Hash/message digest: SHA-1, SHA-2 (256)
Safety, Security and Environmental Compliance
CE, FCC
RoHS, EU WEEE
FIPS 140-2 Level 2 and Level 3 Cryptographic operations
Common Criteria EAL2+**
**under Common Criteria evaluation
Physical Characteristics
Standard 1U 19 inch rack mount
Dimensions: 42.8mm x 434mm x 702mm
Weight: 18.6kg (40.96lb)
Input voltage: 100-240v AC auto switching 50-60Hz (nominal)
Power consumption: up to 12A at 100-240VAC 50/60Hz
Heat dissipation: 4100 BTU/hr max (full load)
Temperature: operating 10°C to 35°C (50°F to 95°F) at 10% to 80% relative humidity